Our clients are just like you. Write your own success story with the help of berner+becker
HARD ROCK HOTEL DAVOS& BERNER+BECKER
A Success Story
Location:
Davos, Switzerland
Hotel type:
Chainaffiliated
Service:
Outsourced Revenue Management
Start of collaboration:
October 2017
Challenges
Define price policy and performance focus
Expansion and adequate use of the distribution network
Implementation of a revenue management culture
Solutions
Benchmarking analysis

Day of week and seasonality based pricing

Room type supplements

Special event optimization
Development of base occupancy with groups and promotional partners

Adequate pricing of contracted business

Connection of alternate distribution channels
Transparent strategy of the Hard Rock Hotel Davos for all stakeholders

Continuous coordination of actions and developments through defined communication channels
Results
RGI

development from

45 in 2017

(before the collaboration)

to

152 in 2020

Revenue doubled within 2 years
Occupancy growth in low and medium season accounts for of the 60% growth during the collaboration 

Strong ADR growth in the high season
Time = Money; better coordination of processes allowed additional focus on matters of sales, business development and operations to enhance performance
The Hard Rock Hotel Davos and berner+becker revenue management are connected through a successful long-term relationship. Kicked off in 2017 by the realisation that, in order to extract the full potential from a challenging market (oversupply of hotels) with seasonal demand fluctuations and very few periods of excessive demand, specialists are needed to optimize and restructure the business together with the hotel team.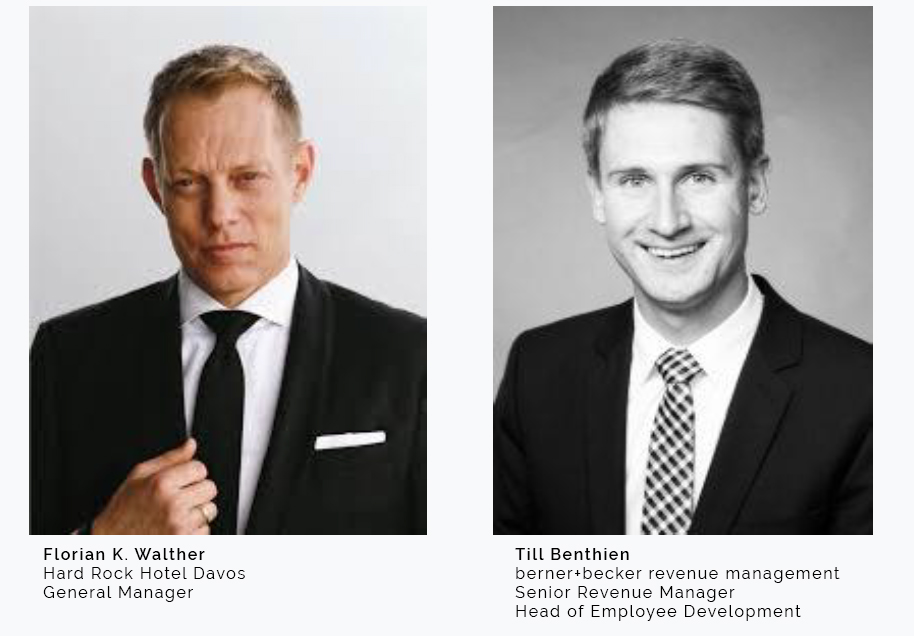 "berner+becker has been a professional partner during the opening of our hotel and the branding activities with Hard Rock International. Through their efficient and structured support, we were able to successfully master these challenges. Today we benefit on a daily basis from the excellent know how of the specialists from berner+becker"
With an at the time relatively unknown brand in the hospitality industry in an untypical location for Hard Rock Hotels, the hotel was fighting for occupancy with a premium price policy. Market relevance in pricing was often neglected. Consequently, neither periods with weak nor high demand were performing well. Existing distribution possibilities were not used adequately or priced too high. Channels that could generate a high volume during all seasons were not used sufficiently. The hotel showed an obvious need for professional revenue management support in order to make time for structuring business development and sales activities.
The following challenges had to be adressed:
• Definition of price policy and performance focus (occupancy or ADR) in
different time periods
• Expansion und adequate use of the distribution network
• Implementation of a revenue management culture in the hotel
Benchmarking
Preparation of detailed demand analysis with benchmarking data

Identification of performance enhancing opportunitites

Outcome: 

Winter and summer season in Davos with different clientel with different willingness to pay

Higher demand on week-ends (80-100% Occ.) than on week days (30-40% Occ, except during holidays)
Pricing
During the summer a price difference of approx. CHF 40 between week day and week-end

During the winter a price differences of approx. CHF 150 between week day and week-end

Comparison to market share data revealed a huge occpancy gap compared to the market

In terms of rate the hotel was far above the market – this was evident during all seasons
Positioning
New positioning from a pricing perspective, in order to fulfill expectations regarding F&B and TREV budget

Improved balance of Occupancy and ADR was targeted

Depending on the demand, positioning was changed from being the most expensive product towards being in the middle or even lower when applicable

Newly defined price points, room type supplements as well as category overbooking layed the foundation for more volume
• Low and medium seasons could be heavily improved in occupancy
• High seasons were improved through ADR enhancing actions and yielding
• Win the off season, win the year" is accurate, as 60% of total performance increase resulted from actions during low and mid seasons
• The performance during the few peak demand periods, e.g. the World Economic Forum (WEF) were improved through an upwardly adjusted price positioning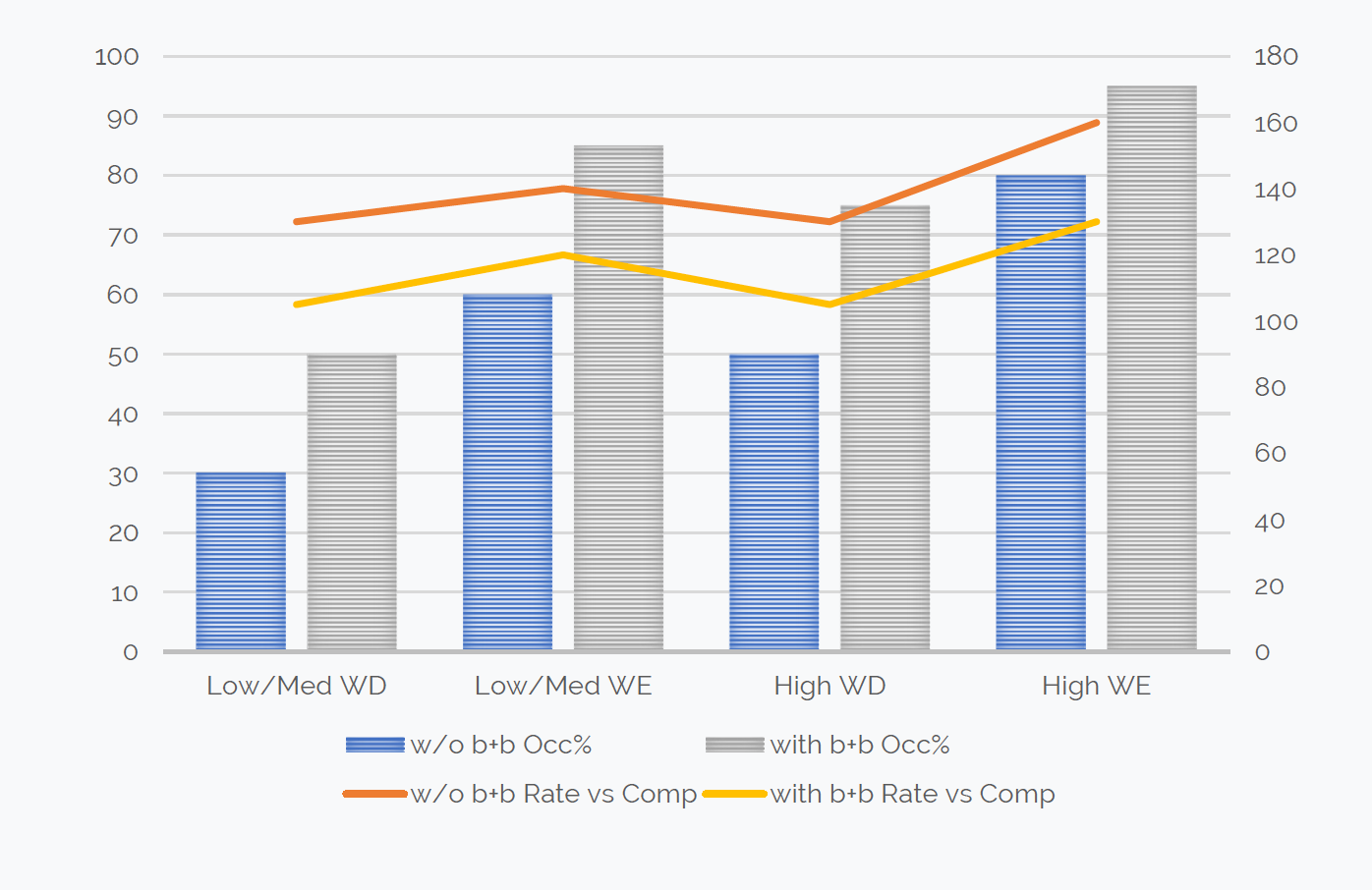 Distribution
Increase in visibility to increase awareness and perception of the Hard Rock Hotel in order to achieve a corresponding return on investment, which was evident in increased production

Development of formerly absent base business by setting up a long-term group- and promotional partners

Significant increase in volume through participation in tactical promotions and flash sales with a large potential audience 

Equipment of congress booking sites with competitive pricing and availabilities resulted in a high increase in congress business

The revision of wholesaler and tour operator rate structure and the extension of partner network had a significant impact due to the high share of leisure demand in the market
Revenue Management Culture
To create and maintain a strategic understanding of revenue management, performance enhancing actions were regularly discussed and explained in updates and revenue meetings. Thanks to regular evaluations of actions and continuous monitoring and modification of the business mix by berner+becker, the hotel team was able to fully focus the efforts on the areas of sales, business development and operations, which brought tremendous success!
Looking back at the results , we see an increase in revenues of almost 100% within 2 years. Given that 2018 was the first full financial year, a strong increase in revenue might not be a huge surprise. The success of the collaboration is much more evident in the performance of the hotel compared to the competitive set. The Hard Rock Hotel Davos turned from being an average performer (RGI 2017: 45.6) to being the top performer in the market (RGI YTD 2020: 152.4)!
Outlook
Further potential to increase performance lies predominantly within an extension of CRM activities and online marketing. This should lead to a higher degree of awareness, which will make it easier for returning guests to choose the Hard Rock Hotel again. With nature near and relaxing experiential vacations booming, Hard Rock Hotel Davos has a decisive locational advantage and can look ahead to actively influencing the business through revenue management and subsequently a bright future.
About the Hard Rock Davos and berner+becker
The Hard Rock Hotel Davos combines the power of Rock'n Roll with the beauty of the swiss alps and creates an unforgettable experience all around. Whatever may bring you to Davos, you will want to stay, once you have been captured by the Hard Rock style. The perfect spot to escape daily routines, the ideal location for business meetings and congresses as well as wonderful weddings. Add Hard Rock Hotel Davos to your bucket list and realize your wishes.
Visit the Hard Rock Hotel Davos website here
berner+becker provides all hotels with access to professional and tailored revenue management. From outsourcing to consulting or trainings, berner+becker offers a comprehensive approach to optimize revenues and profits of their clients long term.
HARD ROCK HOTEL DAVOS
"berner+becker has been a professional partner during the opening of our hotel and the branding activites with Hard Rock International."
SCHLOSSHOTEL MONREPOS& BERNER+BECKER
A Success Story
Location:
Ludwigsburg, Germany
Hotel type:
Private hotel, Part of Traube Group
Service:
Outsourced Revenue Management
Start of collaboration:
November 2018
Challenges
Rate optimization during business weeks as well as during trade fairs in Stuttgart
Solutions
Daily monitoring of the internal booking pick-up and rate development of the competitors as well as introduction of competitor benchmark analysis
Targeted pricing to significantly increase the average rate in periods of high demand as well as to optimize occupancy during low demand periods
Improved control of corporate contract partners
Active yielding of the existing room categories to increase the average rate through stay restrictions on lower categories. At the same time guaranteeing continuous availability for several days through strategic overbooking of categories when needed
Restrictive room and segment yielding on busy weekdays
Results
Room revenue increase by almost 10% in the first year of cooperation
Significantly higher revenue growth than the market, expressed by an RGI increase of 9% in the first year of cooperation compared to the competition to an RGI of over 120.
Development of the average room rate on days with high demand approximately 10% better than that of the competition
Challenges
Increase occupancy on shoulder days, weekends and holidays
Solutions
Detailed forecasting and reporting as a general basis for decision-making
Implementation of new distribution channels and partners to optimize occupancy on weekends and times of low demand
Implementation of an ideal segmentation per weekday and demand period. Adjustment of the segment mix strategy as a result
Working with minimum length of stay restrictions on high demand days to improve occupancy on shoulder nights
Results
Occupancy growth on weekends by 30%
Significantly better occupancy and rate development than the market in the Corona year 2020
Challenges
Finding the optimal balance between banquet room utilization and bedroom sales
Implementation of a revenue management culture in the hotel
Solutions
Introduction of demand-based group pricing and professional group and conference quotations, with the aim of converting the right groups with high F&B revenues at the best possible rates
Regular strategy meetings with the hotel team to constantly coordinate actions, strategies and developments
Results
Above all, the targeted pricing of public rates and groups, as well as the introduction of new rate products and distribution partners contributed significantly to this success
The successes were achieved through a significant increase in occupancy during low demand periods and a strong increase in rates during periods of high demand in the market in close cooperation with the hotel team
With its 8 conference rooms and 770 square meters of event space, as well as its 3 gastronomic outlets, the Schlosshotel Monrepos has a relatively large event area in relation to the 77 hotel rooms. This results in the challenge of optimally using the capacity of both rooms and event space at the best possible rates. This is only possible through a constantly adapted sales strategy and close cooperation between banquet sales and revenue management teams. In addition, the greater Stuttgart area and Ludwigsburg itself are mainly characterized by business travellers with the classic travel behaviour from Monday to Thursday. This requires strategic actions to increase occupancies on shoulder days, weekends and vacation periods in order to increase the overall occupancy of the hotel. During high demand periods the full focus is on increasing average rate of the hotel. We have been working successfully with the team of hotel director Felix Sommerrock since the end of 2018.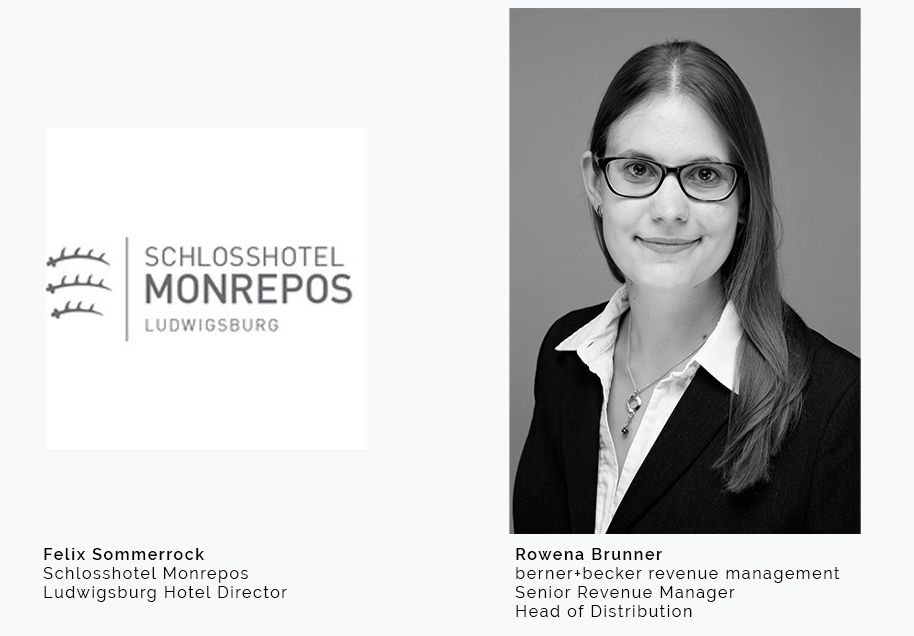 "Uncomplicated & success-oriented! The cooperation has been built on trust since the start and we receive excellent support from the berner+becker team. A very good and intensive exchange has delivered the desired revenue increases".

SCHLOSSHOTEL MONREPOS
"Uncomplicated & success-oriented! The cooperation has been built on trust since the start and we receive excellent support from the berner+becker team."
PLATZL HOTEL & BERNER+BECKER
A Success Story
Location:
Munich, Germany
Hotel type:
Private hotel
Service:
Outsourced Revenue Management
Start of collaboration:
November 2016
Challenges
Full utilization of the rate potential during trade fairs and events
Segmentation shift to increase ADR
Potential for improvement of price level compared to competition
Solutions
Detailed analysis of fairs and events in comparison with the compset, and execution of goal oriented actions to maximise profits during those
Much more restricted selling during A and B fairs to reach higher ADR
General increased public prices, and more rigid control of selling lower priced segments during peak season
Segmentation update, and reduction of FIT allotments to allow for more flexible selling of the room inventory
Results
Consecutive strong revenue growth every year since the start of collaboration, period November 2016 to December 2019

12% revenue growth in year 1, 7% growth in year 2, and 5% in year 3. Managed to grow revenue through both ADR and occupancy in all years

Strong growth of ADR during fairs and events, both internal and compared to the compset
Challenges
Potential to increase occupancy in low season
Effective yielding of room categories
Solutions
Optimisation of online distribution, and proactive work with promotion partners and other volume driving initiatives during need periods
Flexible pricing, adjusted to the market and hotel demand
Restructuring of room categories and yielding of those, with a focus on straight line availability

I

mplementation of a professional group quotation process
Results
Strong occupancy increase in low season
A very large market share growth with RGI increasing every year, coming from both strong growths of ARI and MPI

19% RGI growth in year 1, 7% in year 2, 5% in year 3
Challenges
Implementing a revenue culture and understanding in the hotel team
Implementation of a revenue management system and continuous coaching of the team
Establishing the newly opened sister hotel "Maria's Platzl" in 2018 on the market and setting up of revenue management structures.
Solutions
Frequent strategy meetings with key management team in hotel
Implementation of forecasting and other processes and reports to facilitate decision making
Detailed market analysis and setting of the revenue strategy for the new hotel
Results
Successful market penetration for the newly opened "Marias Platzl", beating the budget target in the first full year after opening
Successful implementation of a revenue management culture in the hotel
The 4-star superior Platzl Hotel is located in the heart of Munich just around the corner from the famous "Marienplatz" and have been welcoming a large number of international clients for a long time. The opportunity for a collaboration lied within managing this very high demand and making sure that through professional revenue management the hotel managed to grow ADR versus the competition, which also proved successful.
Since 2016 we work closely with the Hotel Director Heiko Buchta and his team.
"In my opinion the operational execution of revenue management, as offered by berner+becker, is truly the most purposeful form of consulting for hotels and provides a real alternative to an on property revenue manager! Since the beginning of our partnership with berner+becker we have seen tremendous revenue increases through targeted price and segmentation strategies. Because of their identification with our property, berner+becker have been able to provide a smooth and effective service to us. I can highly recommend working with them!"

PLATZL
HOTEL
"In my opinion the operational execution of revenue management, as offered by berner+becker, is truly the most purposeful form of consulting for hotels"
HEIMATHAFEN HOTELS & BERNER+BECKER

A Success Story
Location:
Heiligenhafen and surroundings
Service:
Outsourced Revenue Management
Start of collaboration:
2020
Challenges
Refining Current Revenue Strategy
The first challenge for Heimathafen Hotels was to fine-tune its existing revenue strategy. This involved a thorough analysis of displacements, with a focus on shifting towards segments that yield higher revenues. Additionally, there was a need to build a robust Revenue Management structure, supplemented with essential training for the staff.
Solutions
Conducted displacement analyses
Shifted focus to higher yielding segments
Built a solid Revenue Management structure
Implemented training for seamless operation
Results
ADR growth of +25% since 2019 / before collaboration
Challenges
In-depth Seasonal Strategies
The second challenge was to develop more profound seasonal strategies. This involved putting a clear ADR focus during the high season and running promotions for the low season. It also required the introduction of adapted and new rate products as part of the seasonal strategy.
Solutions
Developed seasonal strategies
Clear ADR focus for high season, promotions for low season
Introduced new Rate products as part of seasonal strategy
Adapted distribution strategy focusing on direct channel during high season and expanded distribution partners in low season
Results
Long-term Occupancy growth in low season months of +5%
Challenges
Changing Travel Behavior and Booking Patterns
The third challenge was the changing travel behavior and booking patterns. This required dynamic pricing and yielding while remaining agile to changing demands and conditions.
Solutions
Implemented more dynamic pricing and yielding
Remained agile to changing demands and conditions
Results
Distribution remaining over >80% Direct Channels
Heimathafen Hotels, a private hotel chain with locations in Heiligenhafen, St. Peter-Ording, Büsum, Wilhelmshaven and soon also Hamburg, have successfully refined and seasonally adjusted their Revenue Management Strategy since 2020. Even in times of changing travel behavior, we have been able to work rigorously in collaboration with Heimathafen Hotels towards optimizing both high season and low season periods. The successes – the gains in terms of both occupancy and rates – speak for themselves and Heimathafen Hotels are therefore among the best performing hotels in the market! We have been working very cooperatively and enjoyably with the team at Heimathafen Hotels since the end of 2020!
"We have been very successful in the past few years and always had high occupancy levels, which is why we wanted to position ourselves more professionally for the future and our expansion. The view from the outside is important to us as well as the optimization of the room rates. It was crucial to us that the cooperation has to feel like berner+becker is a department in our company and not an external consultant!"
HEIMATHAFEN HOTELS
"We have been very successful in the past few years and always had high occupancy levels, which is why we wanted to position ourselves more professionally for the…"
Interested? We would be excited to hear from you!