Gothenburg, Sweden, is home to the largest stadium venue in the whole of Scandinavia; "Nya Ullevi". The stadium can host up to 75K people for a concert or sporting event. In July 2022, Rammstein paid a visit to the city and hosted as many as three concerts on three nights in a row, and they were all packed! In total, except for the occasional super-fan attending all three concerts, that means around 225K people attended the concerts. Interestingly, Gothenburg as a city only has a total of 13K hotel rooms with ca 27K beds. Hence, of all concert visitors, Gothenburg can host maximum 36%. That is what I call incremental demand!
These "mega events" are currently bringing more visitors to a city than the big fairs do, or even used to do, filling up not only Gothenburg in this case, but many surrounding cities in Sweden and even Copenhagen. At large, the demand for such events is driven by the people's lust for travel and leisure activities after Covid, resulting in these events becoming the most important revenue opportunity for hoteliers. Yet, they can be quite tricky to foresee and plan for, and few hoteliers pay enough attention. Let's have a closer look at them, but beware, the demand during fairs is coming back slowly but surely, too.
Why some markets are stronger than others
Even with war and skyrocketing inflation, people evidently want to travel. Since May this year, the European hotel market has been outperforming itself, and is YTD now stronger than 2019 (table 1). Germany is also beating pre-Covid results in Q2 and Q3, but just fall shortly behind YTD September. However not all cities within Germany recover in the same pace and studying the data (table 2) per city we can see a hint that leisure demand along with mega events can be a reason why. Especially leisure focused destinations are back strong, like Munich and Berlin. Cities like Frankfurt and Hannover however, who traditionally have much business-related travel, are still behind that of pre-Covid levels, which is also supported by the data in table 1.
Hence, we can re-confirm a strong leisure travel with many high impact events fuelling a high RevPAR in those destinations, whereas the typical business destinations are yet to recover fully. Business destinations do also have good impacts from some of the big leisure events but not as much, and more importantly for them, the fairs must come back stronger.
The fairs are improving
Bauma, the world's biggest fair with an exhibition area of 614K sqm, finally took place again in Munich in 2022. Organizers, as well as exhibitors, were generally happy with the Bauma 2022's performance – a great fair that resulted in numerous deals, partly even more successful than pre-covid Bauma results. The number of visitors: 495K, which is indeed a lot, but not at the level of pre-Covid with 628K in 2019.
A look at graphs 1-4 tells us that out of seven major fairs in four key destinations in Germany, only one fair, the Light & Building in Frankfurt, surpassed pre-Covid levels in number of fair visitors. The fairs are however indeed on the rise again and are not to be neglected as money makers. But, well noted, compared to the 3-day Rammstein concerts, only the Bauma fair brought more visitors than the 225K of Rammstein. Concluding that mega leisure events are definitely not to be neglected, either, and can have an even higher revenue potential for hoteliers.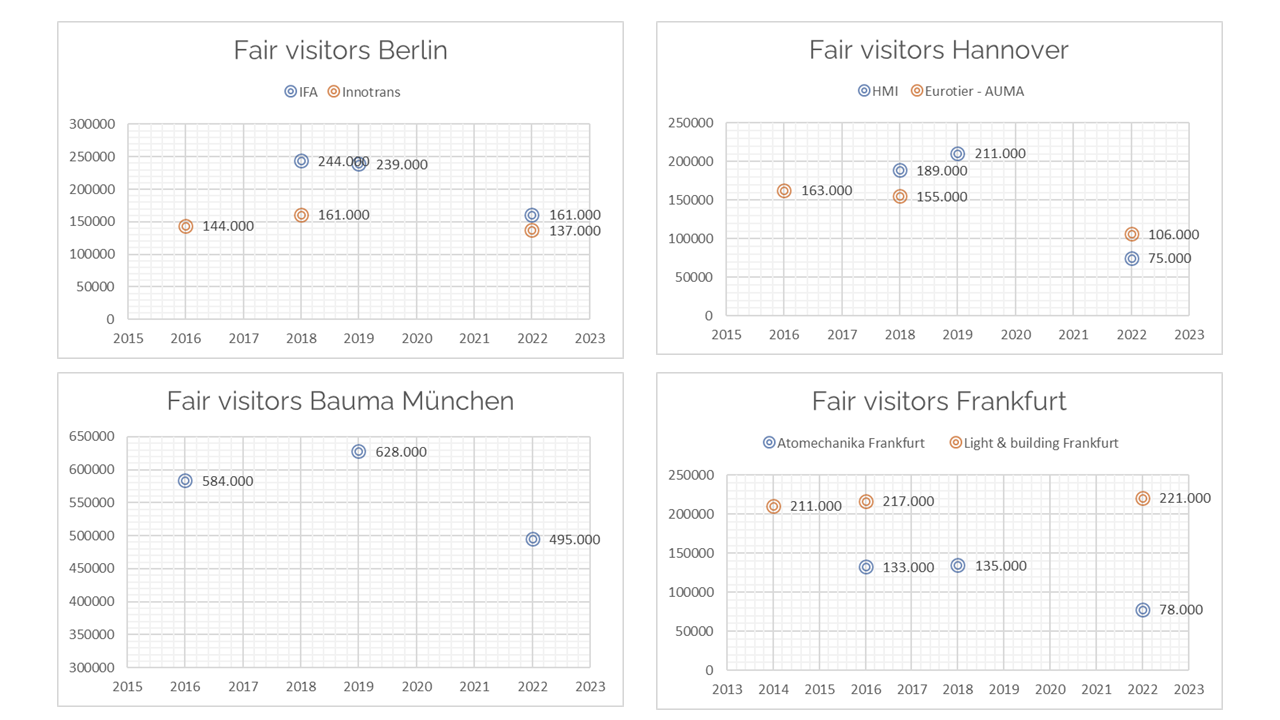 The effects of Mega-Events
Mega events and even giga events have always been there. Surely Revenue Managers and hoteliers have had the Olympics, Champions league finals and even the DFB Pokal-Finale on their radar. But how has it been with concerts?
The RevPAR of 240 EUR reached during one day Rammstein concert in Sweden compared to that of the strongest fair of the year in Gothenburg, the book fair with a market RevPAR of 153 EUR, again shows how important the mega events are for hoteliers.
Not only in Sweden do mega events now happen. Munich, august 2022, a "Mega-concert" event with Helene Fischer, Andreas Gabalier and Robbie Williams attracted up to 130K visitors for one single day, boosting prices and RevPAR through the roof in Munich hotel market.
The way to optimisation
To optimise your mega event, see the action list. The first key is to be aware of when they happen, which is not always easy. Coldplay tickets for their 2023 Euro tour sold out within minutes, and hotels followed shortly after! Google alerts, inside contacts at the event arenas can be very useful.
As soon as you know when an event takes place, close your hotel for sale for those days! Then, take a moment to analyse the situation before you open for sale again. With historical data from similar events, market share data, competition pricing (don't be afraid to lead the price change increase if your competitors haven't yet reacted), make sure to update your pricing and yielding strategies.
If you have a pricing system, make sure to add the event and set the correct starting price which will be crucial for the system to further optimise. The starting price is so important, as each room can mean a potential loss of several hundred euro if sold to your "normal" price. Hence you don't want to wait with increasing the price until you have already sold your first 20%.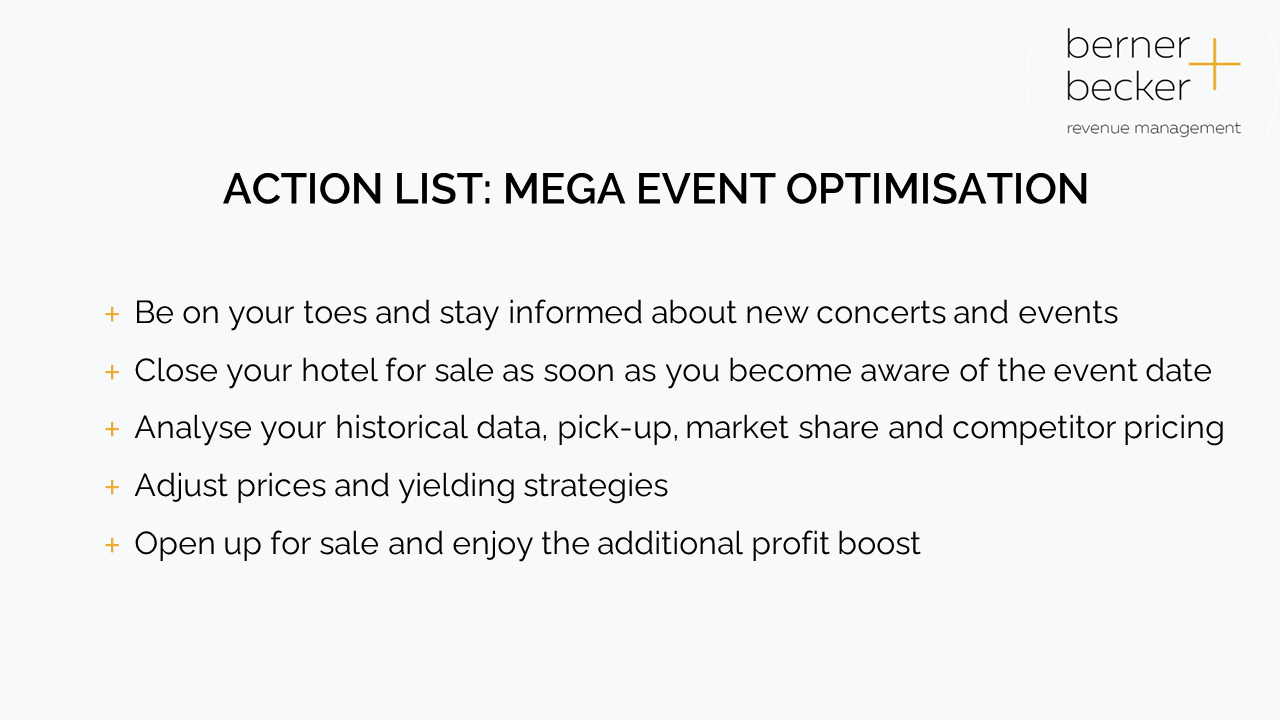 Mega-Events are here to stay
Mega events are here to stay in the future, and fairs are coming back slowly but surely. Leisure demand keeps being a strong demand driver for now but business travel is also coming back. As a hotelier having suffered immense revenue and profit losses in the past years, paired with current inflation and rising costs, make sure to optimise all the big demand driving events that come to your market – they are indeed a blessing! All the best of luck for 2023 and beyond!